Only a few days away from the Holiday madness!  I wanted to share some pretty tablescapes to help get you inspired and give you a few ideas to jazz up your table.
My florist friend Valerie from Floral Arranging 101, suggested to buy two or three mixed bouquets (all the same) at the grocery store.  Divide up the flowers by color and type and then color block (bunching like with like colors) an oasis wreath.  Color blocking flowers add more impact.  Then add small pumpkins on skewers, pods, millet sprays, etc. Then place candles in the middle.  This looks great on a round table.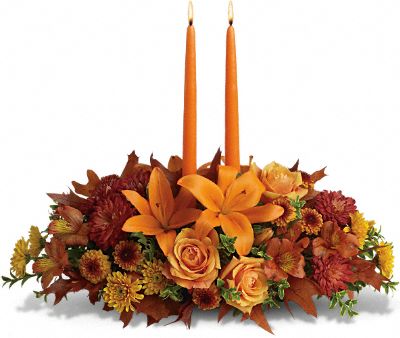 For a rectangular table, Val suggests using three to five short vases and color block (bunching like with like colors) them down the center of the table.  No taller than 10 inches, so your guests can converse over them.  Or use candles as below:
PS.  If you have not seen the flameless wax candles, check it out here.  Great idea.  They are made of vanilla scented wax and run on batteries.  They even have a timer on them!  They are available in 4″, 6″ & 8″ heights.
I love to run table runners side to side like this above picture instead of always down the middle.  Very pretty and creative.
 So simple.  So beautiful.
Pretty soon I can start posting about Christmas tablescapes like below: Yay!
I hope that I gave you some ideas to use for your big day.  Remember to enjoy yourself!
If you need help decorating your home, contact me today!