An article in The Washington Post today gave a rundown of newly released design books. Wonderful new decorating books to look through page by page! from leading designers. Although I haven't had a chance to read these books quite yet, I wanted to share the thoughts and reviews of those who have had a chance to read them. These are a few of my favorites:
"In The Things That Matter, Nate Berkus shares intimate stories from his life, introduces us to people who influenced him and helped him forge his sense of style, and opens up about the remarkable experiences that have left him forever changed, all of which find expression in how he lives today. From his most cherished flea market finds, to his beloved books and photos, to the many extraordinary mementos he's collected in his travels, every piece defines who he's become and what endures in his world." Review from Amazon
Young House Love: 243 Ways to Paint, Craft, Update & Show Your Home Some Love
"This debut book by bloggers Sherry and John Petersik is filled with hundreds of fun, deceptively simple, budget-friendly ideas for sprucing up a home. With two home renovations under their (tool) belts, 5 million blog hits per month, and an ever-growing audience since the launch of Young House Love in 2007, Sherry and John are home-improvement enthusiasts primed to pass on a slew of projects, tricks, and techniques to do-it-yourselfers of all levels. Whether an experienced decorator or a total novice, on a tight budget or with money to spend, any homeowner or apartment dweller will find ideas for his or her own home makeovers here. Learn to trick out a thrift-store mirror, spice up plain old roller shades, "hack" your Ikea table to create three distinct looks, and so much more." Amazon Summary
"In this book, design duo Robert and Cortney Novogratz (stars of HGTV's Home by Novogratz) give us an inside look at twenty of their favorite projects to show us how to achieve their signature "vintage modern" style. See how they effortlessly mix contemporary furniture with thrift-store finds, and learn all sorts of tricks for creating a stylish home no matter what the obstacles: seven children, small spaces, or a tiny budget." Amazon Description
"Readers who love new traditional design that's clean and refined yet comfortable will find inspiration and liberation in how acclaimed designer and author Darryl Carter perceives the home as a collection of beloved hand-selected items. The Collected Home dazzles with gorgeous photographs of rooms and details, and enlightening text about what makes a space extraordinary. Additionally, Darryl provides–for the first time ever–hands-on advice for approaching home design, such as defining short- and long-term goals, from selecting an antique door knocker to planning the architectural elements of an addition." Amazon
"Anyone who has ever met Los Angeles designer Barbara Barry knows she is someone who cares deeply about every little thing, from how to properly arrange a tea tray to how to display arugula in the fridge. The goal for Barry is always beauty. In this, her first book, she uses stunning photography and carefully composed prose to explain how you can achieve her well-ordered and Zen lifestyle. If you let Barry be your life coach, you will learn to simplify and elevate what you have. The photos of the flower-filled bedside tables, crisp linens and carefully composed firewood stacks make you feel calm just studying them." The Washington Post Summary
"If your life is lacking in glamour, flip through the latest book by Beverly Hills designer Kelly Wearstler. Her decoration of high-profile boutique hotels and a stint as a judge on Bravo's "Top Design" series brought national attention to Wearstler's bold personal style and her way with textures, colors and gilded Rococo mirrors. The Wearstler inspirations offered in this book are more in the lavish photographs than the text. She illustrates how some of her large projects using mixed materials such as marble and crystal can be recomposed in a smaller environment. By the last page, you might be tempted to invest in some purple leather chairs, mirrored doors and studded metallic walls." The Washington Post Summary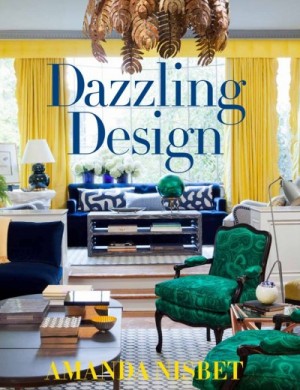 "As one of today's most sought-after designers, Amanda Nisbet brings a fresh, energetic approach to the traditional sense of luxury. Color, texture, and form blend to create her trademark comfortable elegance, and her work seamlessly balances function and style, classicism and modernism, in beautifully unexpected ways. With over 250 spectacular photographs of New York City apartments, country houses, and Hamptons beach homes, this extraordinary volume will show readers how to bring punch and color to classic rooms."  Amazon Summary
Have you noticed that the common theme of all the books seems to be 'Your home should reflect who you are?' I agree wholeheartedly!!
Which book do you think you will choose first? I love Nate and Amanda Nisbet, but I really would like to look through Young House Love's new book. New design books to decorate our coffee tables!  Hurray!
If you need help decorating your home, contact me today.