hgtv
Do you ever wish you had a larger kitchen? If a complete renovation is not possible right now, how about a few design ideas you can do now to make your kitchen appear larger?
hgtv
* Get rid of countertop clutter. This simple step will free up visual space to make the room look larger. Baskets and trays don't only look great, but they work well as organizers and help keep collections together: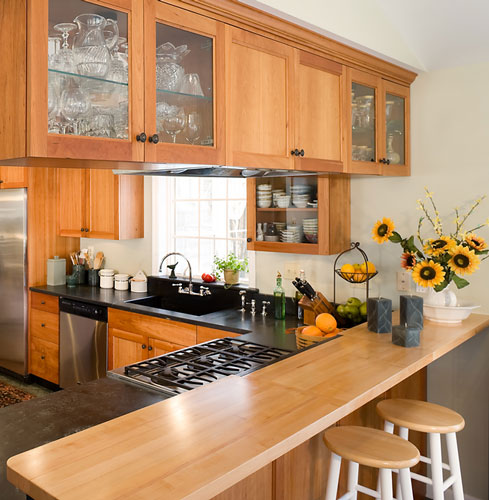 google image
* A mirrored backsplash. This is an easy DIY project that will make any space seem visually larger:
Faye Cone
* Open shelving. Ok, you may have more dusting to do, but look how the open shelves really open up the kitchen:
Martha Stewart
bhg
Cann you tell that I love the look of the open shelves??
* Glass front cabinets is another trick to make the room seem lighter and brighter.
* Good lighting. Many older homes do not have overhead kitchen lighting. It might be an investment to have lighting put into your kitchen, but image how nice the brightness will always welcome you. Maybe better lighting will help you cook better too! 🙂
hgtv
* Light walls, floors and cabinetry. A white or light neutral color throughout the kitchen is a certain way to visually lighten and brighten your kitchen and give the image of an open space:
bhg
bhg
I hope you have gotten a few good tips and ideas to make your kitchen appear larger than it is. Just because it is small, doesn't mean it can not look fabulous! Pictures do not lie, right?
Any other tips or tricks you might want to share on making a kitchen not look as tiny? Comments?
If you need decorating help in your home, contact me today.